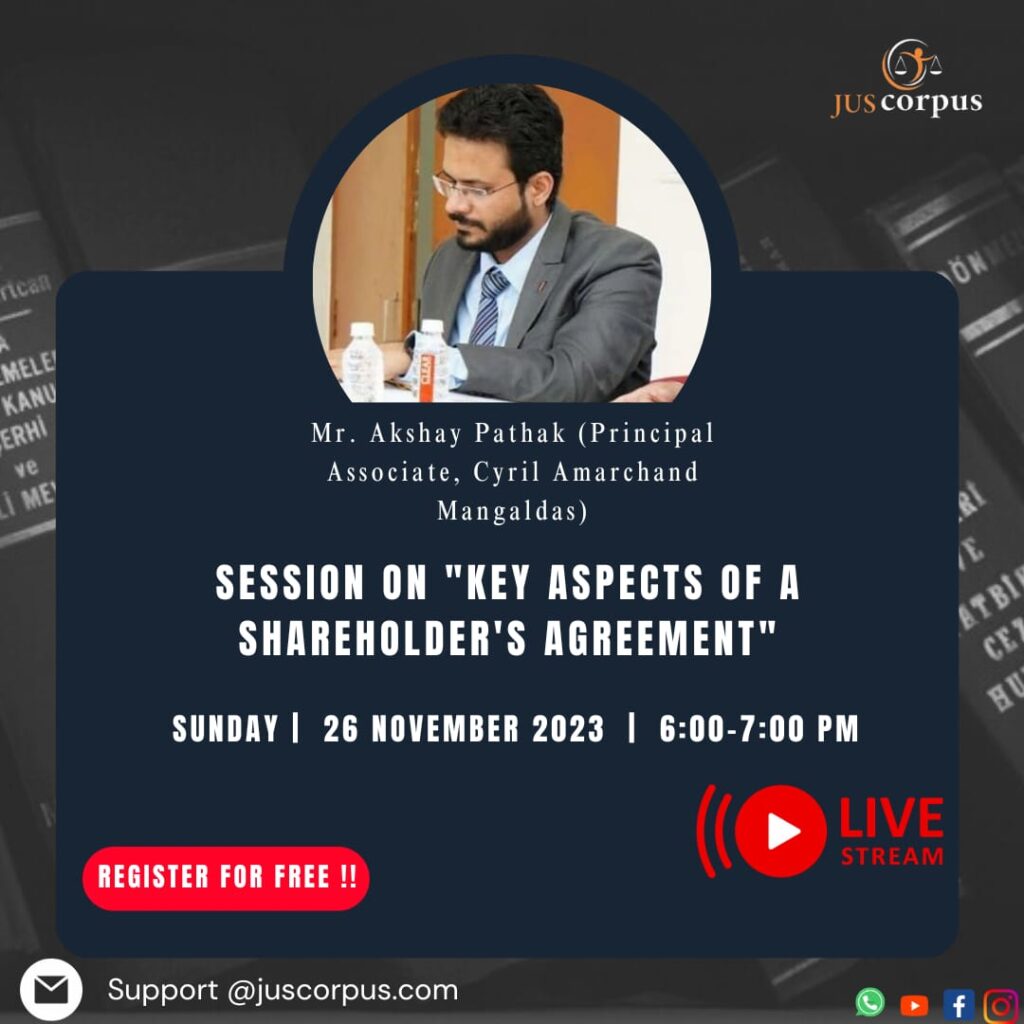 ABOUT JUS CORPUS
Jus Corpus is a body of legal professionals who have come together to bring various aspects and chains of law under a Single umbrella. Jus Corpus, An Ed-Tech platform setup in 2020 having the wide reach of 600k clicks per month on an average basis on our website (www.juscorpus.com). The inspiration was derived from the ever-growing need of the Law Students.  Jus Corpus has also incorporated an interdisciplinary journal as its subsidiary named as the 'Jus Corpus Law Journal'.
ABOUT THE SPEAKER
Mr. Akshay Pathak (Principal Associate, Cyril Amarchand Mangaldas)
Sir is working as a Principal Associate at the Cyril Amarchand Mangaldas. His major practice area primarily includes domestic and cross-border M&A, general corporate matters, including restructurings. Sir is a graduate of Amity Law School, Delhi (Guru Gobind Singh Indraprastha University) and thereafter he worked with Link Legal India Law Services for around 3 months, and post that he joined Shardul Amarchand Mangaldas and worked as an Associate for around 2 years In October 2018, he joined Cyril Amarchand Mangaldas. Sir is also an Advisory Board member of Jus Corpus.
ABOUT THE SESSION
The topic of the Session: "Key Aspects of a Shareholder's Agreement"
Dates: 26 November 2023
Timing: 6-7 pm
Venue: YouTube Live
YouTube Channel: https://www.youtube.com/c/JusCorpus
PERKS AND BENEFITS
E-Certificate of Participation to all the Attendees.
Learning from the Industry Expert.
Live Session.
REGISTRATION AND OTHER DETAILS
Registration is FREE.
Registration Link: https://forms.gle/puW4CjkFfdEd1dPW6
YouTube Channel Link: https://www.youtube.com/@JusCorpus
(Subscribe the Channel in order to join the Session.)
CONTACT US
For any query, feel free to contact us at
Email: support@juscorpus.com
Call: (+91) 9506788976